Statistical position of Egyptian cotton Season 2020/2021 (M.T)
From beginning of season till 04/04/2021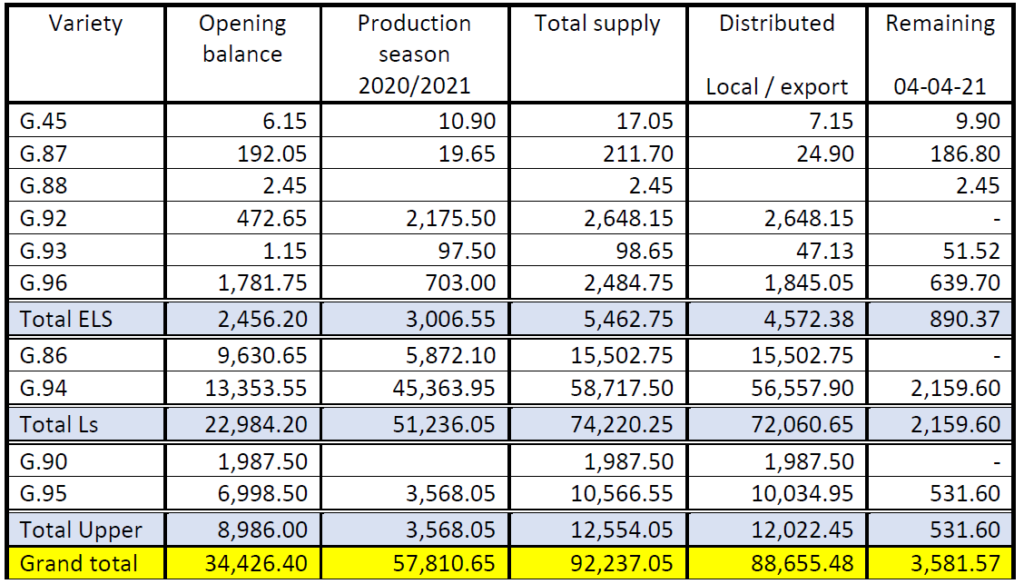 Above report is based on CATGO statistical position (cultivation areas and Alcotexa commitment).
• 95.60 % from total crop has been sold (88,655.48 M.T) prices are expected to remain firm Mainly tight Giza supply position is driving prices higher.
• Within this week Prices increased to record above 176 C.L for G.94/G.86 while record 138 C.L for G.95 with expected sharply increase due to shortage of supply.
• Remain balance (3,581.57 M.T) include almost 50% from old crops.
• The Ministry of Agriculture and Land Reclamation decree No.71 for year 2021 announcing the cultivation verities of season 2022 as (G.86-G.92-G.94-G.96-G.97-G.95).
• 94 % of total export sales is distributed among 6 destinations as under: –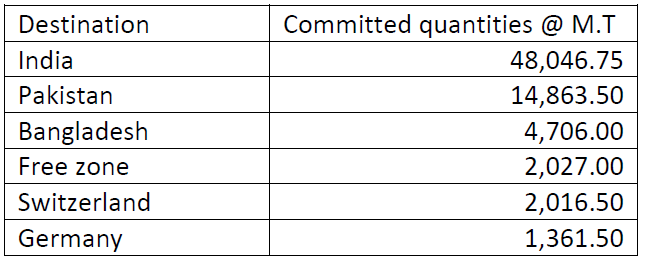 Commitment analysis week (27) Season 20/21
From 28/03/2021 to 03/4/2021 below report as per Alcotexa weekly sales.

Physical fiber probertites for Egyptian cotton (GIZA) all varieties crop 20/21

Above data issued by CATGO for the average of all samples submitted for test within the period 1st sep,2020 to 27th March,2021 based on HVI classing 1000 instrument.
Top 7 exporters – Commitments & shipped % (Season 2020/2021) By Ton From 01/10/2020 To 03/04/2021

USA: –
Planting Intentions came in around the average of expectations. With 57% of US Cotton being planted in Texas, New Crop Production will be difficult to predict until it is in bale form.
SJV Pime prices reached to 190 C.L shipment may.
also, in season 2021/22. consumption is massively higher than production, which further reduces stocks. This trend will also continue in the 2021/22 season, which will further exacerbate the tight supply situation.
US Pima registrations crop 20/21 dated March 25, 2021
Crop 20/21 (in running bales of 500 lbs)
After net sales of 4'300 bales (India 3'100 bales, Japan 600, Bangladesh 300, South Korea 300, Indonesia 100, partly offset by reduction Italy 100 bales), 740'000 bales have been registered so far.
We have the following situation:
366'000 bales beginning stock Aug 1, 2020
514'000 bales estimated production 20/21 (estimate USDA on their WASDE report February 2021)
19'000 bales less domestic mill use
248'000 bales less outstanding sales
492'000 bales less accumulated exports
121'000 bales available for export
Out of 861'000 bales (total supply minus domestic mill use), which is the available quantity for export, 86% have been registered so far.
Cotlook US Pima Grade 2, 20/21: 182.00 c/lb (+ 4.00 c/lb) – shipment April/May 2021
World Cotton
World cotton production is expected to rise nearly 5 percent from the year before in 2021/22, to119.5 million bales. This level would be below recent peaks in 2017 and 2019, but above the
average production of the previous 5 years. Global harvested area is expected to rise about 3
percent from the year before, led by increases in the United States and West Africa, but area is
expected to decline slightly in the largest producing countries, India and China.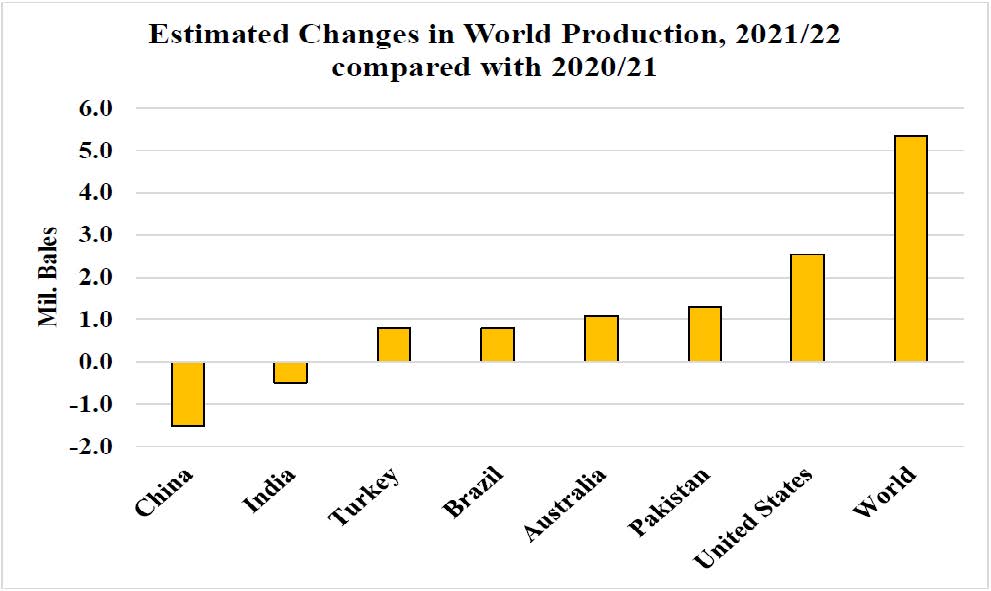 China's 2020/21 crop is estimated at 29.0 million bales, up nearly 2 million bales from the
previous year and the highest level in 6 years. This is despite lower area harvested, which is
estimated at 3.25 million hectares and down more than 5 percent from the previous year. Yield is estimated at a record 1,943 kg/hectare, up 13 percent from last year.
India's 2020/21 production is estimated at 29 million bales, down roughly 2 percent from the
preceding year on both slightly lower area harvested and yield.