Statistical position of Egyptian cotton Season 2020/2021 (M.T)
From beginning of season till 14/03/2021
Above report is based on CATGO statistical position (cultivation areas and Alcotexa commitment).
• 93 % from total crop has been sold (85,233.03 M.T) prices are expected to remain firm Mainly tight Giza supply position is driving prices higher.
• Within this week Prices increased to record above 155 C.L for G.94/G.86 with expected slightly continues increase due to shortage of supply. as still 7 months for the arrival of new crop.
• Remain balance (6,654.02 M.T) include almost 50% from old crops. available quantities from new crop specially in Upper Egypt cotton and LS is very nominal.
• The Ministry of Agriculture and Land Reclamation decree No.71 for year 2021 announcing the cultivation verities of season 2022 as (G.86-G.92-G.94-G.96-G.97-G.95).
• 94 % of total sales is distributed among 6 destinations as under: –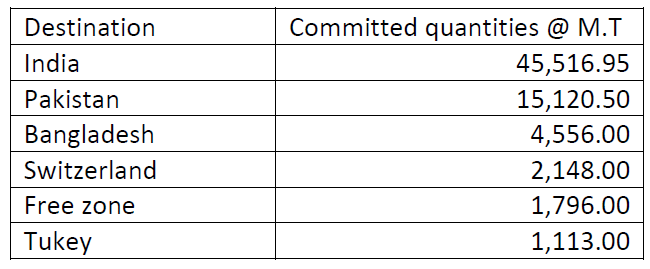 Commitment analysis week (24) Season 20/21
From 07/03/2021 to 14/3/2021

Above report as per Alcotexa weekly report.
Physical fiber probertites for Egyptian cotton (GIZA) all varieties crop 20/21

Above data issued by CATGO for the average of all samples submitted for test within the period 1st sep,2020 to 9th March,2021 based on HVI classing 1000 instrument.
Top 7 exporters – Commitments & shipped % (Season 2020/2021) By Ton From 01/10/2020 To 13/03/2021 as per Alcotexa weekly report

World cotton: –
As the world economy recovers from the severe 2020 downturn, global cotton consumption is expected to grow by 4.1 per cent in 2021-22 season, substantially above the long-term average rate of 1.7 per cent, according to the US department of agriculture (USDA). This will be the second consecutive year when world consumption will exceed production.
World cotton stocks are expected to reduce by 3.2 million bales, according to the initial world and US cotton outlook for the 2021-22 season released by USDA in February at the Agricultural Outlook Forum.
Meanwhile, world cotton production is expected to rise 4.7 per cent with the most significant year-over-year growth in Pakistan, Australia, Brazil, the United States, and West Africa, the Foreign Agricultural Service (FAS) of the USDA said in its March 2021 report 'Cotton: World Markets and Trade.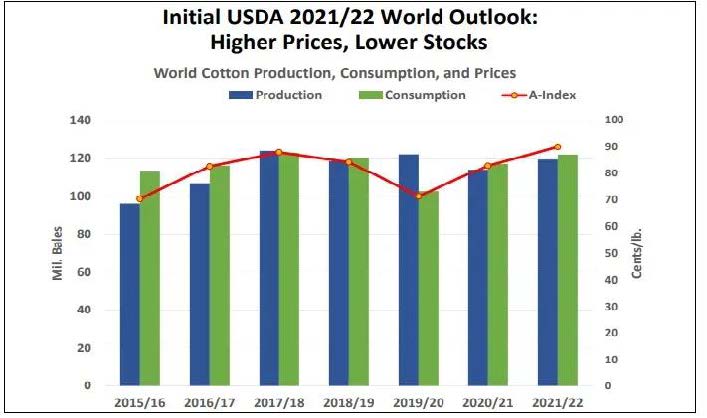 Overall, strong cotton consumption growth in 2021-22 and tightening stocks are expected to support prices with the A-Index forecast up 7 cents to 90 cents/pound for the marketing year. "If realized, this would be the highest in 8 years," the report said.
The March forecast shows slightly lower stocks and production. Consumption and trade are marginally
higher. Lower production is expected in Brazil on delayed planting. Consumption is raised in
Bangladesh, Pakistan, Turkey, and Vietnam on stronger expected recovery in mill demand. Global trade
is up on higher imports in these countries.
Demand has remained focused on highly competitive US recaps, local Greek trading into Turkey and Indian cotton into Bangladesh and China. However, with lower futures and diminishing export quality, the latter is a less attractive option than it was, which may push attention towards other origins.
USA/China:-
The U.S. forecast shows lower production, use, and ending stocks and the season-average farm price is
raised 1 cent to 69 cents per pound.
Initial 2021/22 balance sheets were published for two countries – the United States and China. Production in the United States is up 17 percent to 17.5 million bales as planted area remains stable and abandonment declines on the assumption of normal weather.
However, weather conditions, especially in Texas, provide significant downside risk. Consumption is expected to rise to 2.5 million bales, but still nearly 500,000 bales lower than 3 years prior; exports are expected to remain at 15.5 million bales. As a result, ending stocks are forecast at 3.8 million bales, a 5-year low.
China's 2021/22 imports are forecast at 11.0 million bales, unchanged from the previous year's level, which was the highest level in 7 years. Further growth in yarn and fabric production, coupled with lower domestic production, is expected to maintain strong imports in addition to the State Reserve maintaining an optimal level of government-held stocks comprised of both imports and domestic supplies.
China's consumption is projected to increase at a rate below the world average due to above average growth in 2020/21. China realized an earlier recovery from the impacts of COVID-19 relative to other major consumers, with the resultant 2020/21 consumption growth rate above the world average.