Statistical position of Egyptian cotton Season 2020/2021 (M.T)
From beginning of season till 07/03/2021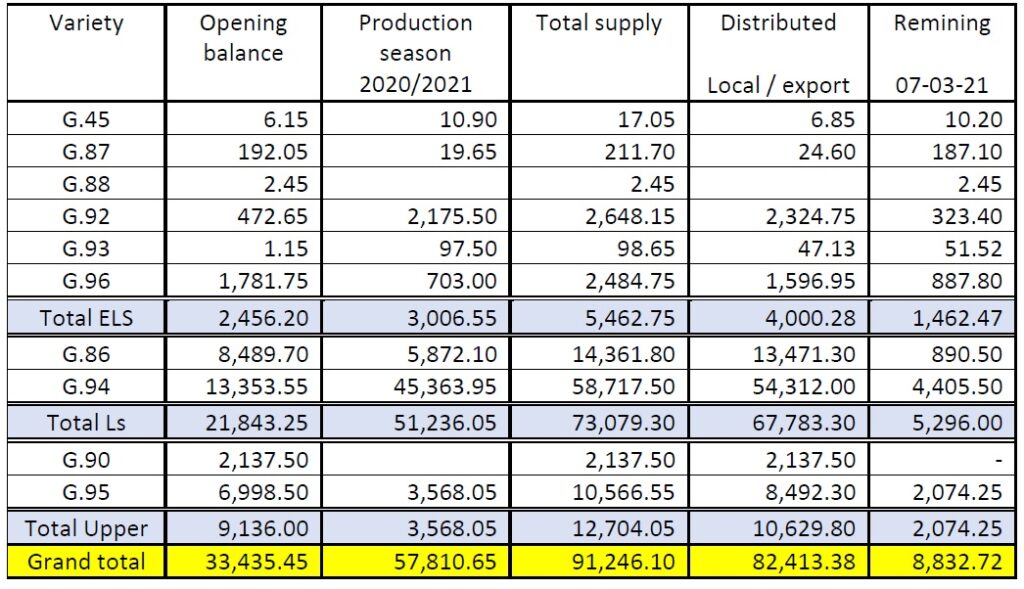 Above report is based on CATGO statistical position (cultivation areas and Alcotexa commitment).
90 % from total crop has been sold (82,413.38 M.T) and thus prices are expected to remain firm Mainly tight Giza supply / demand position is driving prices higher.
 Within this week Prices increased to record above 150C.L for G.94/G.86 with expected slightly continues increase due to shortage of supply. as still 7 months for the arrival of new crop.
 Remain balance (8,832.72 M.T) include almost 50% from old crops. available quantities from new crop specially in Upper Egypt cotton and LS is very nominal.
94 % of total sales is distributed among 6 destinations as under: –
Commitment analysis week (23) Season 20/21
From 28/02/2021 to 07/3/2021

Above report as per Alcotexa weekly report.
Physical fiber probertites for Egyptian cotton (GIZA) all varieties crop 20/21

Above data issued by CATGO for the average of all samples submitted for test
within the period 1st sep,2020 to 28th feb,2021 based on HVI classing 1000 instrument.
Top 7 exporters – Commitments & shipped % (Season 2020/2021) By Ton From 01/10/2020 To
06/03/2021 as per Alcotexa weekly report

U.S. Cotton
This week's Export Report was down 32% from the previous week, but, was still viewed positively, especially on strong shipments, with Current Crop showing net sales of 176,900 bales (Upland: 169,100 bs, Pima: 7,800 bs)
Most LS / ELS growths follow Pima price pattern and most analysts feel Pima prices would continue to move, despite slowing demand.
This month's 2020/21 U.S. cotton forecasts show lower production, consumption, and ending stocks relative to last month.
Production is reduced 250,000 bales to 14.7 million, competing crops have enjoyed relatively higher prices, so traders are expecting acres will fall for cotton.
Ending stocks are 100,000 bales lower this month at 4.2 million bales.
Statistical position: –
Below pls find latest US Pima export registrations Crop 20/21 (in running bales of 500 lbs)
After net sales of 7'800 bales (China 3'900 bales, Turkey 1'900, India 1'600, Italy 300 and various 100), 708'000 bales have been registered so far.
We have the following situation:
366'000 bales beginning stock Aug 1, 2020
530'000 bales estimated production 20/21 (estimate USDA on their WASDE report February 2021)
19'000 bales less domestic mill use
274'000 bales less outstanding sales
434'000 bales less accumulated exports
169'000 bales available for export
Out of 877'000 bales (total supply minus domestic mill use), which is the available quantity for export, 81% have been registered so far.
Cotlook US Pima Grade 2, 20/21: 167.00 c/lb (+ 2.00 c/lb) – shipment March/April 2021